Tracking and Analytics
Google Analytics vs. Plausible
Google Analytics is the most widely used analytics and tracking tool on the web. However, only a minority of users know that there are alternatives that are also GDPR-compliant and therefore do not require cookie banners. Here we would like to introduce Plausible.io, an alternative that we also use ourselves.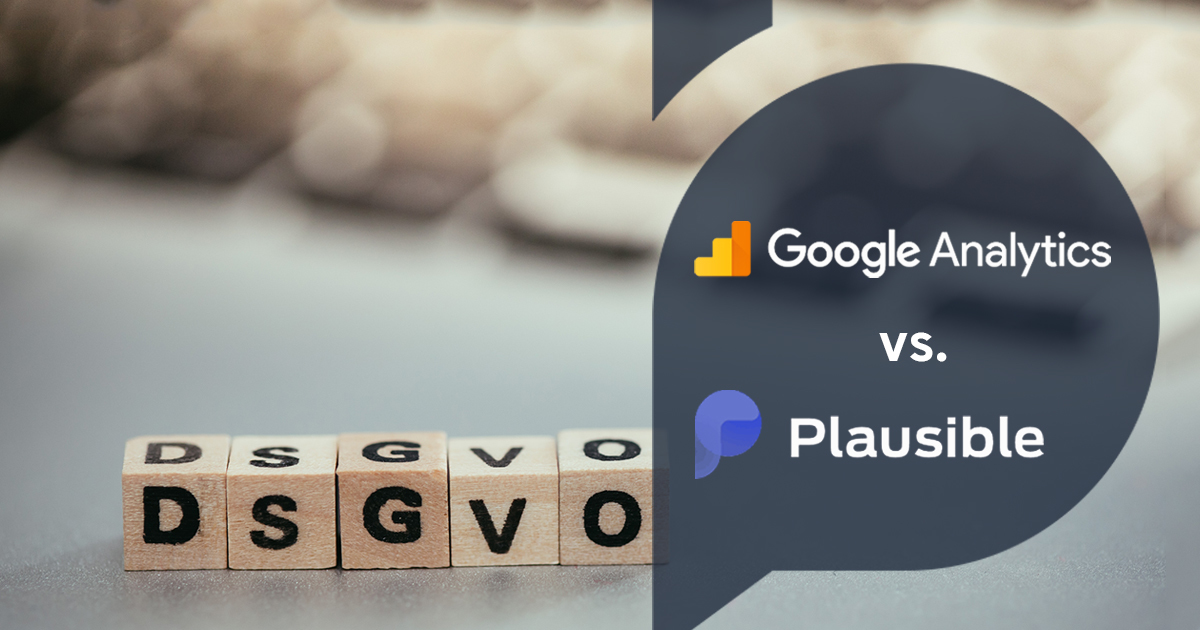 Google Analytics is the tool of choice for most website operators when it comes to tracking. But at the latest since the GDPR, it's no longer a case of "insert tracking script and go". A privacy policy must be in place and the consent of the users must be received before Google Analytics can be used. This means not only additional effort, but also having the well-known cookie banner on your own website. In this article we explain how you can get by without a cookie banner and privacy policy and still gather the most important information.
What Does Analytics and Tracking Even Mean?
Analytics, or tracking, is the term commonly used on the web to describe the collection and analysis of data about how a website is used. This data includes, among other things, information such as:
The number of visitors to the website
Which pages are viewed and how often
Interactions, such as clicks on a contact button
In addition, other information is often stored, such as device type, operating system and browser of the users.
All this information is of course extremely interesting and often important for website operators. For example, the success rate of an advertising campaign can be derived from it, you can find out which blog article is read the most, or you can ensure that the page is optimized for the most frequently used device types.
Tracking and Data Protection
However, the collection of user data and behavioral data is no longer possible without restrictions since 2016. Due to the GDPR - the General Data Protection Regulation - it is subject to strict rules. In short, the GDPR prohibits the collection of personal data without the explicit consent of the user. Personal data is defined as data that directly or indirectly identifies a person.
This is precisely the problem with many analytics tools. They assign a unique identifier to a person in order to track every action and every page view. However, this identifier is already considered personal and therefore requires the consent of the user. Consequently, in many cases one of the widely used cookie banners is used. If the consent is not given, the tracking script cannot or may not be loaded and thus no information can be collected.
Disclaimer: We are software developers and are not allowed to offer legal advice. The information in this article does not replace legal advice, but only gives an insight into our knowledge and experience.
Plausible as a GDPR-Compliant Alternative
Plausible shows that data protection and analytics do not necessarily have to be in conflict with each other. The tracking solution, which has been in existence since 2019, offers meaningful analysis data without interfering with the privacy of users. Plausible has set itself the goal of collecting no personal data and generally only as little data as necessary. To support these goals, it is also open source and can be run on your own server. This makes Plausible fully GDPR compliant, which means that no cookie banner is needed when using Plausible.
Plausible achieves this by focusing on the most important information. This means that, unlike many other analytics tools, users are not tracked across devices and websites. In addition, all data collected per day is isolated and accumulated. Of course, this also means that less detailed information is available in Plausible than in other tools. However, this is not necessarily a bad thing. Due to the deliberate reduction of data, Plausible is also much less complex to use than many other tools. In our experience, large parts of the information from analysis tools are often not even considered or evaluated - so why collect them at all?
This Is What Plausible Looks Like:
Source: Plausible.io
The most important information at a glance: Visitors, page views, bounce rate and duration of visit. Directly below, the top sources - i.e. how visitors get to the website - and the top pages - i.e. which pages on your own website are visited the most.
Source: Plausible.io
After that, you will find information about the origin, devices, operating systems and browsers of your website visitors.
Source: Plausible.io
Last but not least, goals and conversions should not be missing in a modern analytics software.
Plausible Analytics at bitperfect
At bitperfect, data protection and data security are important topics in our daily work. That's why it was clear to us from the beginning that we wanted to avoid data-hungry tools like Google Analytics on our website. While looking for alternatives, we came across Plausible and were thrilled by its ease of use and great approach to data protection. Despite the smaller amount of data Plausible collects, we haven't missed any crucial information yet. For us, however, Plausible doesn't just impress with data protection. The ease of use and the simple overview - without many menus, filters and dashboards - are also a benefit. This means we always have the most important information available, without having to spend a lot of time learning a new tool.
Do you also value data protection and the privacy of your users? bitperfect will be glad to help you integrate Plausible or another suitable solution into existing and future projects, so that you and your users can benefit from it!